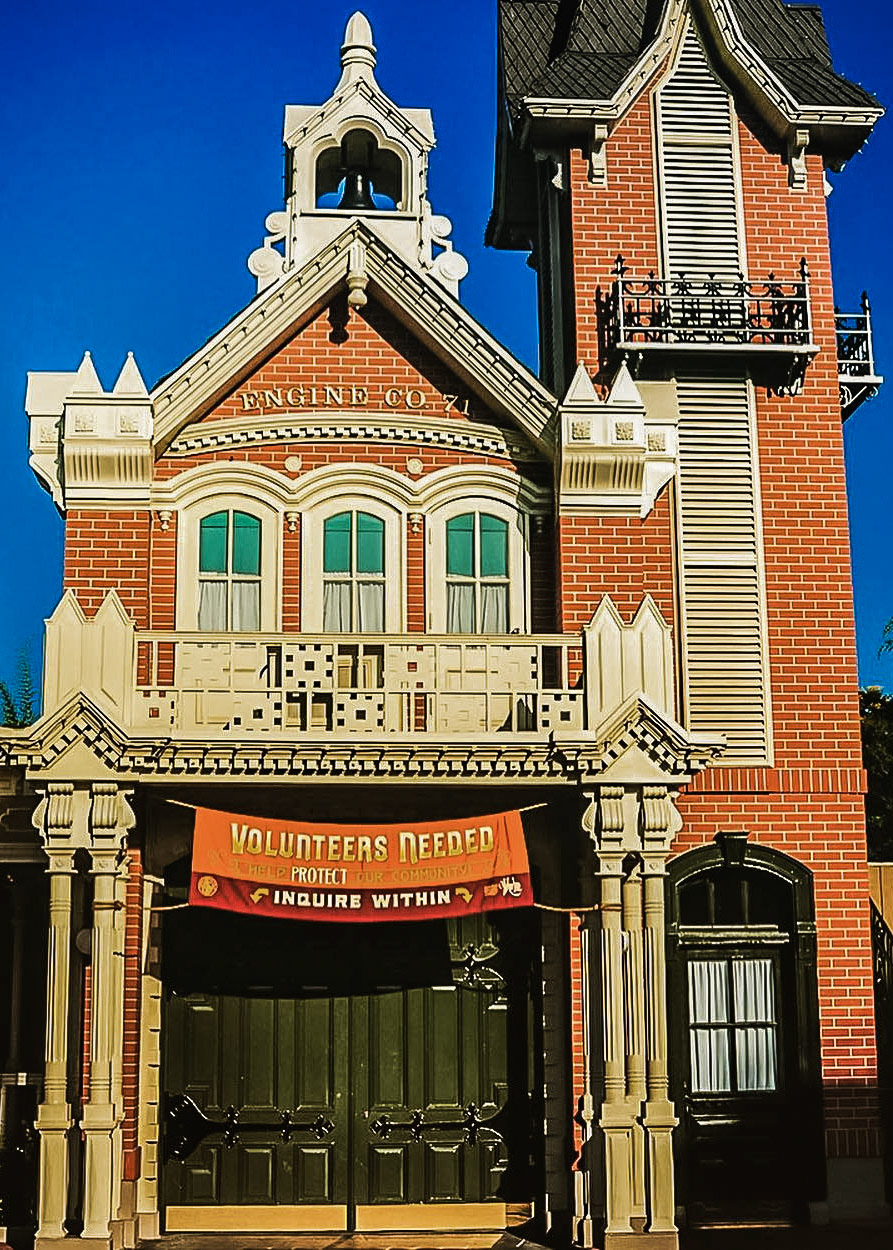 On a recent trip to Walt Disney World I decided to take the plunge and get involved with Sorcerers of the Magic Kingdom.
Next time you visit, I'd encourage you to stop by the Firehouse on Main Street, USA and check it out for yourself!

Sorcerers of the Magic Kingdom ( SOTMK ) is both a collectible card game AND a live-action role-playing game.
For those Pokemon fans out there, its a blend of Pokemon Go- where players need to explore a physical location and interact with certain elements to progress in the game, and the Pokemon trading / collectible card game.
WHO IS IT FOR?
SOTMK is for anyone- but… I would recommend that you only dabble if you have limited time inside the Magic Kingdom on your Disney vacation.  If plans include less than two full days, or... if you're a first-time visitor to the Magic Kingdom it might be a good opportunity to get started, but I would suggest you focus on the other rides and attractions instead.
SOTMK is best for frequent visitors to the park (annual pass holders and / or locals) or for those with extended time planned at Magic Kingdom.
FIVE REASONS YOU SHOULD BE PLAYING SORCERERS OF THE MAGIC KINGDOM AT WALT DISNEY WORLD [ LINK ]
TAKEN FROM AN ARTICLE AT DISNEYFANATIC.COM ( SEE LINK ABOVE )
5. )  It's Free
When entering the Magic Kingdom, anyone can join the SOTMK game by heading over to the firehouse on Main Street. (There's also a SOTMK depot by the Christmas Shoppe in Liberty Square, but the firehouse has practice portals so it's best to start there.) When you start, the cast members will have you link your ticket or Magic Band to the game. Then they will give each of the members of your party a packet of five random cards. Every time you enter the Magic Kingdom you are entitled to a new packet of cards for free!
4. )  It's Fun
The story behind the game is that Hades wants to take over the Magic Kingdom with the help of other Disney Villains. In order to do that, they need to retrieve four pieces of Merlin's magic crystal. It's your job to STOP them! You'll be given a map and told which magic portal to go to first. (You can't go to any portal… the game tracks on your band / ticket and knows where you should be.) Follow the directions at each portal, cast your spells by holding up your cards, and you may just defeat those dreaded villains!
3. )  It's Exclusive
The SOTMK game has fascinating technology!  Each portal has the same functionality, so when you are given your next portal assignment, the game actual runs an algorithm to send you to the portal that has the greatest probability to be open. This type of game is only available in two places: Disney World's Magic Kingdom and a smaller version on one of the Disney Cruise ships. The cards themselves even have levels of exclusivity, marked by a small picture on the left hand side. If you find yourself with a star, you've got a pretty unique and powerful card. And if you've got a lightning bolt, hold on to it – they're super rare! In addition, exclusive cards are offered each year at both special events –
Not So Scary Halloween
and V
ery Merry Christmas
.
2. )  It's Continuous
Your game will track on your band/ticket for two years, and each time you enter the park you can pick up right where you left off. There are three levels of difficulty too. Obviously you start on the easiest level, which is perfect for kids. On the easiest level, villains can be defeated without much thought to card spell selection. On the medium and hard levels, you have to figure out the villains strengths and weaknesses and use the correct spell cards to combat them, often in combination.
1. )  It's Fanatical
SOTMK is a
BIG DEAL
! I had no idea, but there were fellow Disney Fanatics around us that had tons of cards all organized and filed in big binders. Mickey ears off to these serious players! I struck up conversation with some of them and found out there are social media groups that give tips on card combinations to defeat certain villains, as well as means to trade rare cards across the world. In addition, it's apparently very common to offer trades to other players right there in the park if you have a specific card you are looking for. As always, fanatical friendliness goes a long way; one guy straight up gave us like 15 cards (they were from his duplicates stash)!
GAMEPLAY:
It takes about 30 minutes (or more if the portals are backed up) to go through all the steps to defeat one villain. That being said, if you only have one day in the Magic Kingdom, you may want to save SOTMK for another time and just focus on the rides.

Each spell card has a unique category and power combination.

When you finish a level/game, either head to the Christmas shop SOTMK recruiting location OR the Firehouse for a new pack of cards for each of your party members. Some find the Christmas shop to be less congested, plus there are benches nearby to sit and look at your new cards.
Play the same cards at each portal to level them up. This will come in handy in later levels of the game. Just don't use the same card at the same portal more than once. Legend has it that this will weaken the card's attack.

The portals in Adventureland have difficulty reading cards during dusk, but can read the cards during the day and later on at night just fine.
Stand directly on the emblem on the ground, hold your cards against your chest, and practice tilting them slightly down and straightening them if you have difficulty getting the cards to read. We've found this more effective than moving the cards higher and lower, or more forward.
Every member in your party (even non-players) can get a free pack of cards each day after entering the park!
You must open your last portal before picking up your daily free pack of cards. Don't remember which portal you ended at last time? Simply open ANY portal and it will show you which portal you should go to. It is noteworthy that some cast members only require you open any portal before getting your free deck of cards, whereas others will send you away until you've opened the portal you ended at last time. Some have had mixed results.
Cards 61-70 (known as Bolt Cards) can only be found in Booster packs which are available for $13 in stores throughout Magic Kingdom. The Emporium and Frontier Trading Post keep a nice stock.
Organize your cards in a 4 pockets per page photo album (which you can get on Amazon before your trip). Not only will this save you money (the official albums are $35!), it will keep your cards in good shape, and it makes it possible to easily create combinations of cards which produce pretty cool attacks. Some have had success with up to six cards at a time!

Be prepared for countless duplicates of certain cards (you'll see what I mean). Some use them in their albums turned backward (one every few pages) so that the Sorcerers Crest is showing. This makes those Sorcerer's Crest portals a breeze!
TRADING:
Talk to other players in line at portals to see if you can arrange a card trade for a card you're seeking. Most SOTMK players are pretty friendly and open to trading cards. You can even trade with cast members in front of the Firehouse.
Head to Tortuga Tavern in Adventureland when the restaurant isn't open. This is a popular place for SOTMK players to sit, rest, and trade.
Join a SOTMK group on Facebook to find others who are in the park and open to a trade. Post when you're in the park, which cards you're seeking, and which cards you're interested in trading. 
I'd recommend
THIS ONE
!
There you have it... 

Let us know if you have any tips, tricks, suggestions or questions by filling out the contact form below!