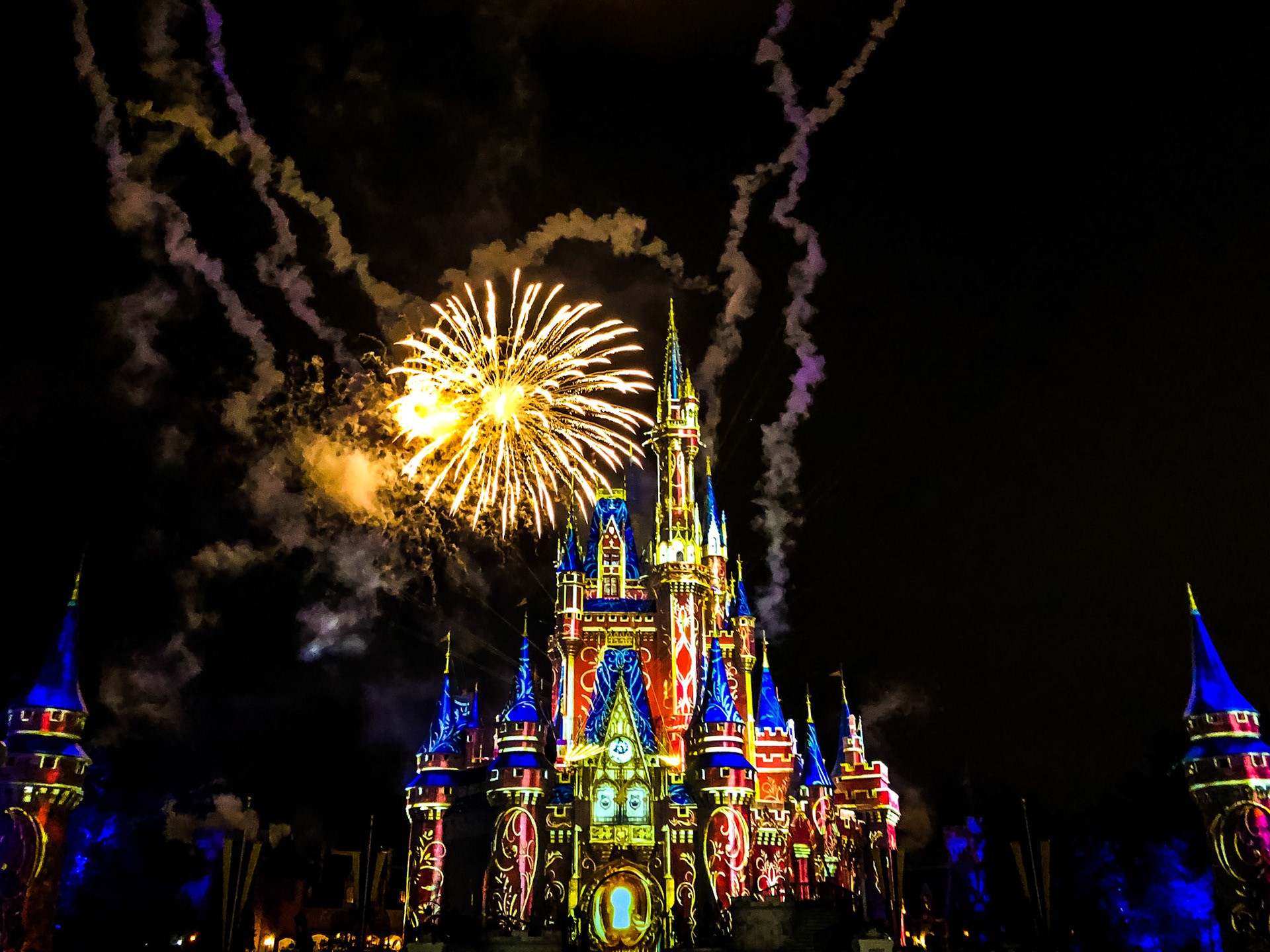 "Wishes is one of the major reasons we keep coming back. Disney would be foolish to mess with perfection."
DISboards.com forum post (April 5, 2016) [LINK]
    It was March, 2017 when Disney announced that its long-running Magic Kingdom nighttime spectacular "Wishes: A Magical Gathering of Disney Dreams" would come to an end after a fabled thirteen year run.  Wishes itself, replaced the original Magic Kingdom nighttime show called "Fantasy in the Sky" in October, 2003.  Understandably, fans of 'Wishes' were upset by the announcement and it seemed that the Disney fan community held its collective breath as it waited to see what would come in its place.  After all, the power and pull of nostalgia is significant and can even cloud someone's objective opinion.
    'Happily Ever After' was set to debut on May 12, 2017- surprisingly close to when the 'Wishes' finale announcement had come.  The anticipation was palpable as fans lucky enough to attend its opening packed the park.  The rest of us (me included) tuned in to a Disney Parks Blog live stream to see what was in store.  It was an impressive display… winning over most with its mix of pyro, fireworks and castle projections.  This technology had been used for several other occasions (mostly in the overseas parks), but this was truly the best representation of the technology to date.
I will go out on a limb and hypothesize that 'Happily Ever After' is peak Disney.  Here's why…
"Forgive the hyperbole, but I thought HEA was amazing… Strike me down for saying this, but it makes Wishes seem relatively basic."
DISboards.com forum post (June 9, 2017) [LINK]
    'Happily Ever After' achieves peak Disney by combining three disparate elements: state-of-the-art technology, nostalgia (as mentioned previously), and the modular nature of the show.
    First, to mention the technology used to deliver the 'Happily Ever After' experience… Both the care and attention to detail paid to the projections on Cinderella Castle are impeccable.  The shapes and angles of the castle are complemented by colors and shading to make Magic Kingdom's centerpiece even more grand and dramatic.  The splash of color as well the additional kinetic energy provided by the projections draw the eye lower and make Cinderella Castle the true star of the show.  When comparing this to 'Wishes' it seems like the castle was more of an accessory or set-piece as viewers all had their eyes to the sky.  Many might complain and state that there is too much motion or activity… but in my opinion, it makes this show exponentially more re-watchable.  Each time I've been able to catch the show, I see new elements, characters and flourishes in each of the scenes.  On top of that, as you get closer to the castle you are brought even more of this.  Those that take the time to stake out a place in front of the castle are truly rewarded for putting that additional time in.
    Next… nostalgia.  With 'Wishes,' Disney was selling a concept and an idea.  I would say that 'Happily Ever After' takes this approach further and adds Disney characters and music with more impact and effect.  Known by many Disney parks fans, the company has been making a more consistent effort to create synergy between it's film and television properties and consumer products with the parks (

MERCHANDISING, MERCHANDISING!

).  
    It perhaps was no surprise then, that with 'Happily Ever After,' Disney chose to incorporate some of the lesser utilized and newer intellectual properties in this show.  This does two separate things… For one, it brings lesser known characters to the fore and brings these underutilized assets to people who may not have already been exposed.  My prime example here is the use of both Quasimodo and the song "Out There" from "The Hunchback of Notre Dame" (1996) in a climactic scene from the show.  Many (including myself) would consider this a highlight of the show, but were less acquainted with this character, song and film than many other Disney "classics."  I'd be curious to see how the introduction of 'Happily Ever After' impacted consumer behaviors for both the movie and it's soundtrack, but also the stage musical of the same name.  In other words… 'Happily Ever After' brought elements of Disney pop culture back into the light where they could be celebrated (and also remembered) by those fans who thought they were forgotten.
    To pair with this, Disney features some newer IP in 'Happily Ever After.'  New characters like Moana and the emotions of "Inside Out" take center stage.  Not only is this good marketing for eventual video releases and sequels, but… it allows Disney to feature new characters in the Magic Kingdom without heavy investment.  Our family is especially sensitive to this because of our young children and our habit of avidly consuming Disney content at home.     The Moana portion of 'Happily Ever After' was one of the most moving for us because as we watched we heard an army of young girls (and others) belt out "How Far I'll Go."  Although you can't meet Moana or Maui (except for some special hard ticket event appearances), you can experience that little bit magic and emotion from the film you wouldn't otherwise get in any of the parks.  Not only does this capture the attention of newer Disney fans, but its also a sound strategy decision.  Not that we have seen this already, but I assume Disney has the ability to lift out and replace portions of this show without great difficulty.  If and when a newer IP emerges that would fit this show or add something as a complement, it would make a lot of sense to make this show more modular and replace elements with others based on seasons or promotions.
    Lastly, as a nod to those fans who were still bitter over the change from 'Wishes,' Disney surprised all of us by including a signature moment from that previous show in 'Happily Ever After.'  During the reprise of the original song used for the show (also called 'Happily Ever After'), Tinkerbell makes an appearance (weather permitting) and flies down from the peak of Cinderella Castle over the viewing audience.  Not only does this add a "wow" factor, but its also that nod to fans of the previous show and is a gesture of goodwill to demonstrate that they are not being left behind.

    So, by combing those three elements: technology, nostalgia and adaptability- 'Happily Ever After' achieves peak Disney in my mind.  Not only does this show take the message of 'Wishes' and lets it evolve into one where the audience and participants take initiative and have agency, but… it also creates a platform where Disney can better satisfy fans.  Newer and lesser known characters surprise and delight guests, but also remind them of the many consumer product offerings they can also take advantage of.
"I'm sad this is finishing. I love it so much and it's hard so soon after Wishes has finished, although I realize that by the time Illuminations ends it will be two years since Wishes had ended."
DISboards.com forum post (September 19, 2018) [
LINK
]
    So now, we face another transition in Walt Disney World's nighttime entertainment lineup…  the long-running "Illuminations: Reflections of Earth" is set to end at the end of summer 2019.  Like the forum post above mentions, there is a lot of anxiety once again about changing such a beloved and rooted experience at Epcot.  The show was originally developed for Walt Disney's Millennium Celebration and premiered in October, 1999.  Next to 'Wishes,' this show is perhaps the most iconic and celebrated nighttime spectacular in Disney Parks history- having won 11 straight Best Outdoor Night Production Show Golden Ticket Awards (2005–2015).
    Again, similar to 'Wishes,' this show is showing its age.  I welcome a replacement and am excited to see how Disney can once again surprise and delight us all.  Two separate issues point me in this direction: the evolution of Epcot as well as the aging and failing technology associated with the show.  Let me start with the latter…
    In the late 90's and into the young millennium, the technology and features developed for this show seemed cutting edge.  Almost twenty years later, we appreciate the intent and nostalgic feeling the Illuminations Globe brings us… but we also know that we can do better.  Most fans of this show cite the moving soundtrack and the overall message as the root of their love for the show.  Very rarely will you meet someone who is impressed by the LED screens on the globe, and furthermore, very rarely will you meet someone with vision needed to actually make out the images on said globe.  There are options now available that can enhance this show and take it to the next level… why cling to the past when we can evolve and reap the benefits?
    Speaking of evolution… Epcot is undergoing a transformation.  The inclusion of intellectual properties and full-fledged attractions in the World Showcase is changing the landscape and focus of the park.  First with Frozen, and now with Ratatouille and possibly Coco- Disney is incorporating characters and ideas from their films that celebrate and add life to the cultural exhibits in each pavilion.  Similar to 'Happily Ever After,' Disney sees an opportunity to breathe life into certain film franchises, appeal to younger audiences and increase consumer product sales.  If we're being honest, its very clear that Epcot itself seems like two distinct or separate parks.  One of those parks (World Showcase) is seen as more of an adult destination.  I think the strategy that Disney is employing (bringing in intellectual properties, ride experiences) is smart and does more to make Epcot a more coherent experience and more of a destination for families.

"On one hand, I flipping love Illuminations and it's the one nighttime show I see EVERY time I go to Disney, no matter what. On the other hand, HEA was so amazing that if they replace Illuminations, I'm sure it'll also be awesome."
DISboards.com forum post (March 2, 2018) [LINK]
    Like 'Wishes' many cling to 'Illuminations' for nostalgic reasons.  I agree with the view of the forum post just above… although you can love and appreciate 'Illuminations' for what it is (or was), there is an example now of the capability and scope Disney can employ for a suitable replacement.  Work is already said to be underway on electrical upgrades surrounding World Showcase Lagoon.  Rumors swirl about the incorporation of drones and drone technology (similar to the 'Starbright' Christmas show at Disney Springs in 2017) and it is also said that there are plans to incorporate floats on both land and water (perhaps a parade / show combination).
    Regardless, the sticking point for many fans of 'Illuminations' seems to be the incorporation of intellectual properties into the replacement show or experience.  While I probably can't talk you out of your opinion if you are dead-set against this… I would again cite 'Happily Ever After' as my example of how a show of this scope can be replaced and satisfy the majority of guests.  In this YouTube age, remember that Disney is developing this show not only for those at Epcot, but for all those Disney fans who tune in for Disney Parks Blog live streams and who like to experience some Disney magic when they're away from the parks.  By incorporating Disney characters and themes in combination with the humanist messages of 'Illuminations,' imagineers can engage both physical and virtual guests more easily as well as use those themes and concepts to guide an audience to the overlying theme- making it more overt and clear than 'Illuminations' ever was.  Pair this with the ability to more easily change show elements if use of digital projections and drones are featured… and you have a more adaptable and modular experience.
    In conclusion, I'd like to say that although Disney seemed to top itself with 'Happily Ever After,' I see an opportunity to redefine and set a course for Epcot and its evolution with this 'Illuminations' replacement.  Let us hope that they bring all the effort, imagination and care to this new show as they possibly can.  If they do, I anticipate great things.