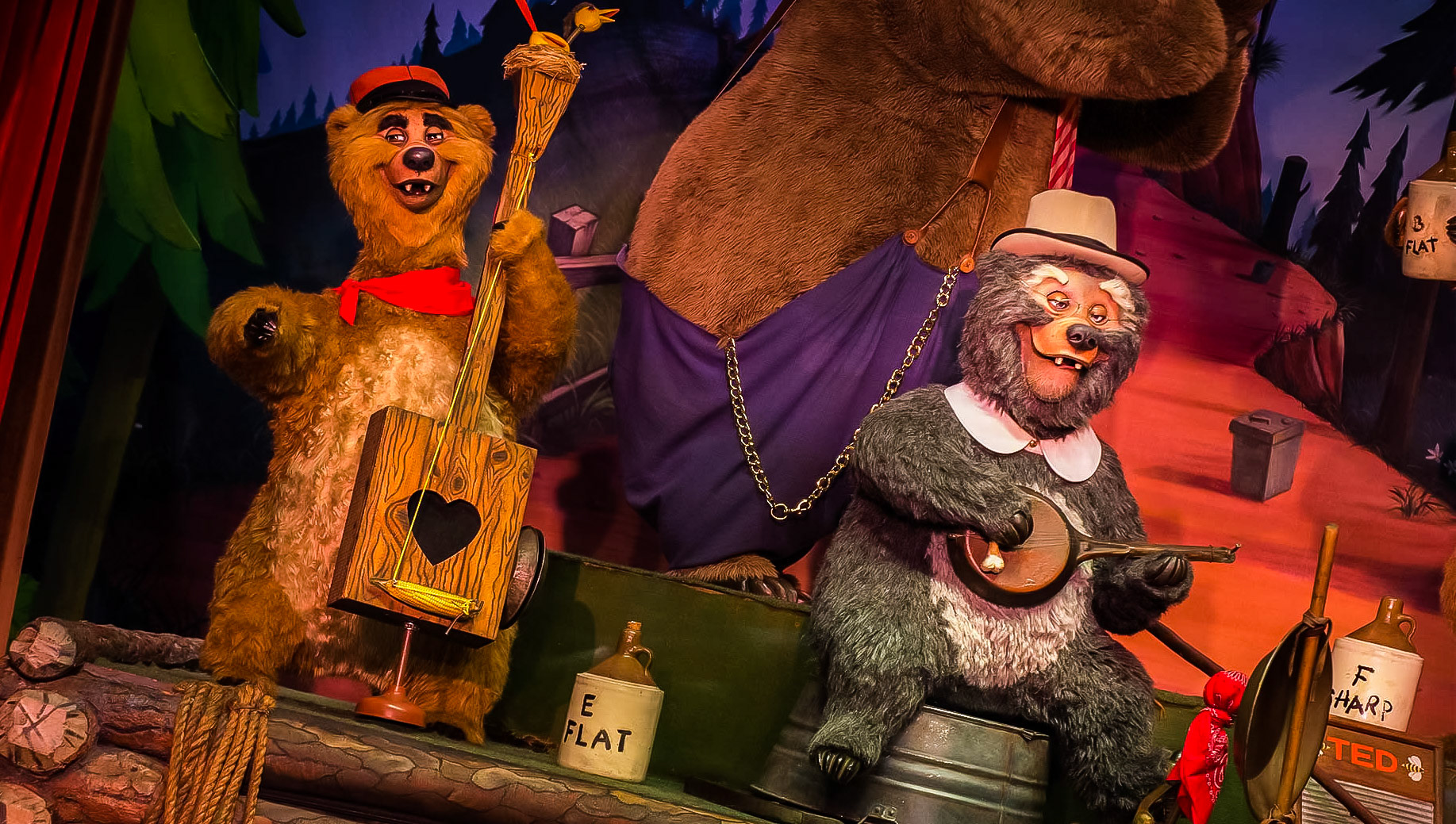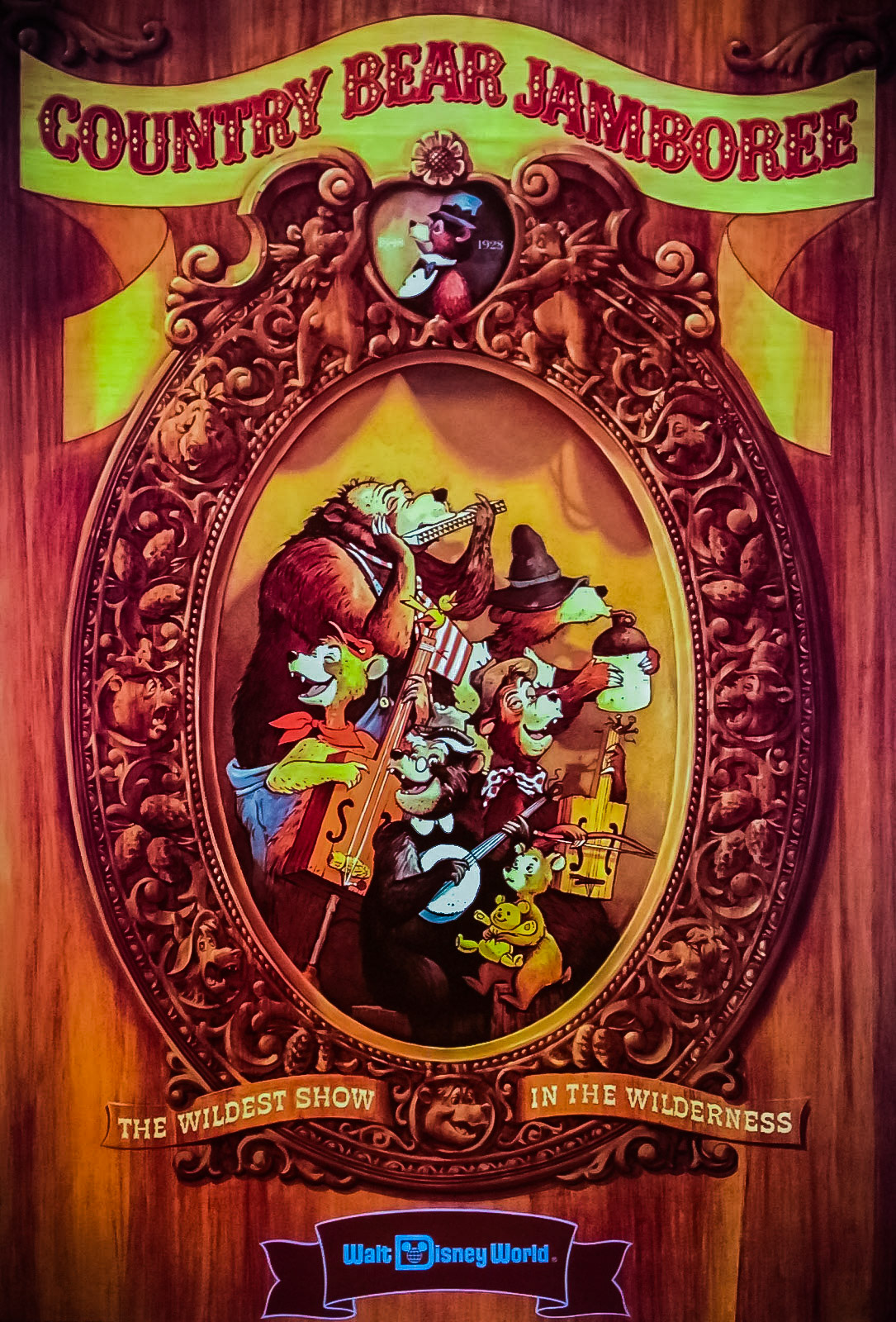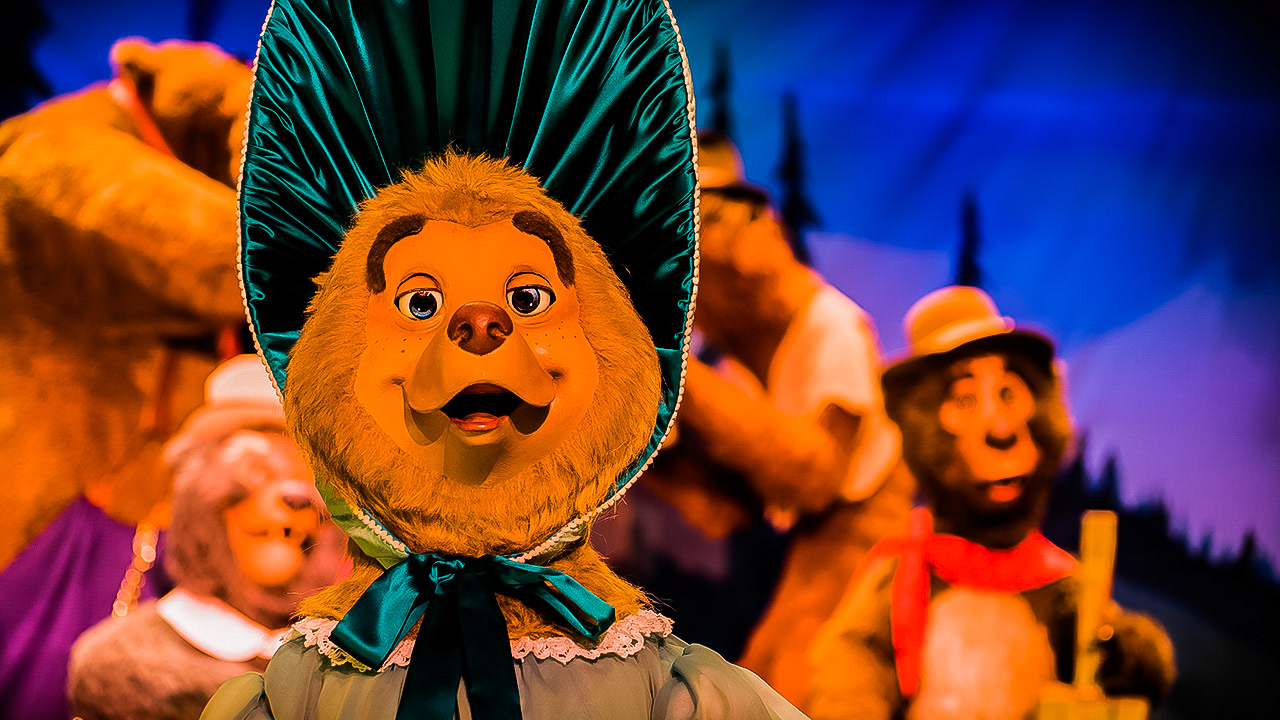 The Country Bear Jamboree [ 1971 - Present ]
Country Bear Jamboree Wiki - Link
HERE
If you've listened to some of the recent episodes of our podcast, you've probably heard me talk about how much I've come to appreciate the Country Bear Jamboree.  I'd like to argue that Country Bear Jamboree might be the best attraction at the Magic Kingdom.

Here are four things you should consider…
1.  It's an original!
Space Mountain… The Tomorrowland Transit Authority People Mover… Big Thunder Mountain Railroad… The Country Bear Jamboree…
Only one of these was an opening day attraction at Walt Disney World's Magic Kingdom… and it wasn't Space Mountain.
The Country Bear Jamboree was one of about a dozen opening day attractions at Walt Disney World.

It's success spawned not only a replica at Disneyland, but an entire new land at that park: Bear Country.  Also, its tremendous popularity brought it over to the Asian Parks (Tokyo Disneyland).  Legendary imagineers Marc Davis and X Atencio had a major hand in developing the attraction's character and music as well.
The Country Bear Jamboree was also the first Disney attraction to receive a seasonal overlay- The Country Bear Christmas Special (as well as the Country Bear Vacation Hoedown).  These two seasonal shows are still offered in Tokyo Disneyland's version of the attraction.
You'd be hard pressed to find a Disney attraction that made as much history as the Country Bear Jamboree has over the years.  Combine that with the underground community and general fanaticism that surround this attraction and you've got a winner.
2.  It's accessible!
The Country Bear Jamboree is accessible to all (no height requirement) and suitable for all ages!  No matter your tolerance for thrill rides, sensitivity to screen experiences, or your general maturity level… the Country Bear Jamboree is safe, enjoyable and fun.
If you're traveling to Walt Disney World with small children (under 38") they won't be able to ride many of the tent pole attractions at the park- including Seven Dwarfs Mine Train, Big Thunder Mountain Railroad, Splash and Space Mountain.  If you need to split your party, the Country Bear Jamboree is easily accessible from Liberty Square, Adventure Land AND Frontier Land.  I'll elaborate in my next point, but this is a quick, easy and air-conditioned way to manage some young ones for about 20 minutes.
The amount and quality of audio animatronics at this attraction is also unparalleled… they're hanging on the walls and come down out of the ceiling for crying out loud!  This and the fun, energetic songs will entertain both you and your kids while you get a chuckle (as some of the jokes fly right over your kids' heads).
While you might need to wait a few minutes in the air-conditioned lobby of the attraction to wait for the previous show to let out… there is almost
NEVER
a wait for the Country Bear Jamboree.  Don't let this deter you or make you think this attraction is a dud (spoilers… its not).
Need to take a seat for a few minutes in a comfortable air-conditioned space?  The Country Bear Jamboree is literally your jam.  This is especially important in the warmer summer months and if you're traveling with younger children.
Need to kill a half hour between Fastpass + reservations?  Why not take a load off at the Country Bear Jamboree?  It's less than half the length of the Hall of Presidents and twice the fun (see below)!
Overall, the Country Bear Jamboree is a tight, streamlined and efficient entertainment experience.  It ticks all the convenience boxes (no wait, air conditioned, easily accessible) while being quite the knee-slapper!
Not sure how I can properly describe the Country Bear Jamboree and give it justice.  
For one… its hilarious.  The writing and arrangement of this show put it in a strange and surreal sweet spot that can both appeal to kids, and make the adults blush too!

On first viewing, I couldn't really believe what I was seeing.
It was as if the best parts of Hee-Haw and the Rock-afire Explosion joined forces to personally entertain me.  On multiple occasions I guffawed and said… "WHAT?" aloud.
I was clearly a rookie Country Bears participant, but the other more seasoned audience members did not seem to mind my audible confusion as they sang along and laughed heartily.
To make sure I wasn't crazy or ate something I shouldn't have, I brought along a friend (Tony) the next day to confirm (…or at least support) my opinion.  Although his wife was confused and possibly disturbed after watching, I seemed to have gotten the reaction I was looking for.
Whether its Trixie drowning her sorrows in a glass of wine or Big Al stealing the show with "Blood on the Saddle," this show has something for everyone… and its all packed into a neat ten minute package.
In closing, i'd like to say that if this article didn't convince you… please watch the attraction video i've embedded below.  The video, of course, can't compare to the live experience, but it should at least give you a flavor of this attraction and might actually tempt you to go see the Country Bear Jamboree on your next visit to the Magic Kingdom.
Is it the best attraction at the Magic Kingdom?  Probably not… but in my opinion, you won't find a more entertaining experience at Walt Disney World.

Please let me know your thoughts!  Submit your question, idea or argument on the form below!
**UPDATE** ( April 23, 2018 )
Thanks everyone for your feedback!  Definitely some strong feelings in either direction on this one...
Here's what some are saying:
[ INSTAGRAM ]

extramagicmermaid:  Have to disagree with you on this one! It's my one and only must NOT do. 😂🙈


[ INSTAGRAM ]

wishupondolewhip:  Love the jamboree



and my favorite...




[ INSTAGRAM ]

rachelcich:  Oh my.



Finally, a great email from Amy-




" We never feel we had a full Disney experience without seeing Country Bears! "




Keep the feedback coming!
Thank you!We'll be featuring feedback and comments into an updated article in the coming weeks!