DISNEY VILLAINS AFTER HOURS
DISNEY EMBRACES ITS DARK SIDE WITH THIS NEW NIGHTTIME OFFERING AT THE MAGIC KINGDOM!
DAVID BARTKOWIAK | JUNE 16, 2019
I traveled down to Walt Disney World earlier this month to experience the first ever Disney Villains After hours event at the Magic Kingdom!  This new offering is essentially an enhanced ( or highly themed ) replacement for the traditional Disney After Hours Event that has been taking place for the past 12-18 months.  This new event, however, is only available for a limited time!  This event will only be offered on 10 nights this summer ( from June 6th - August 8th ).

This event is ( of course... ) a separate hard ticketed event, so park admission will not cover the cost of the event.  The Magic Kingdom will close on event nights at or around 10:00pm ( after 'Happily Ever After' or other regularly offered nighttime entertainment ) and regular day guests will be expected to leave.  Pricing details and more information can be found
here.
  Annual Passholder and DVC member discounts are offered for this event.  I snagged my ticket for under $100 ( plus tax ).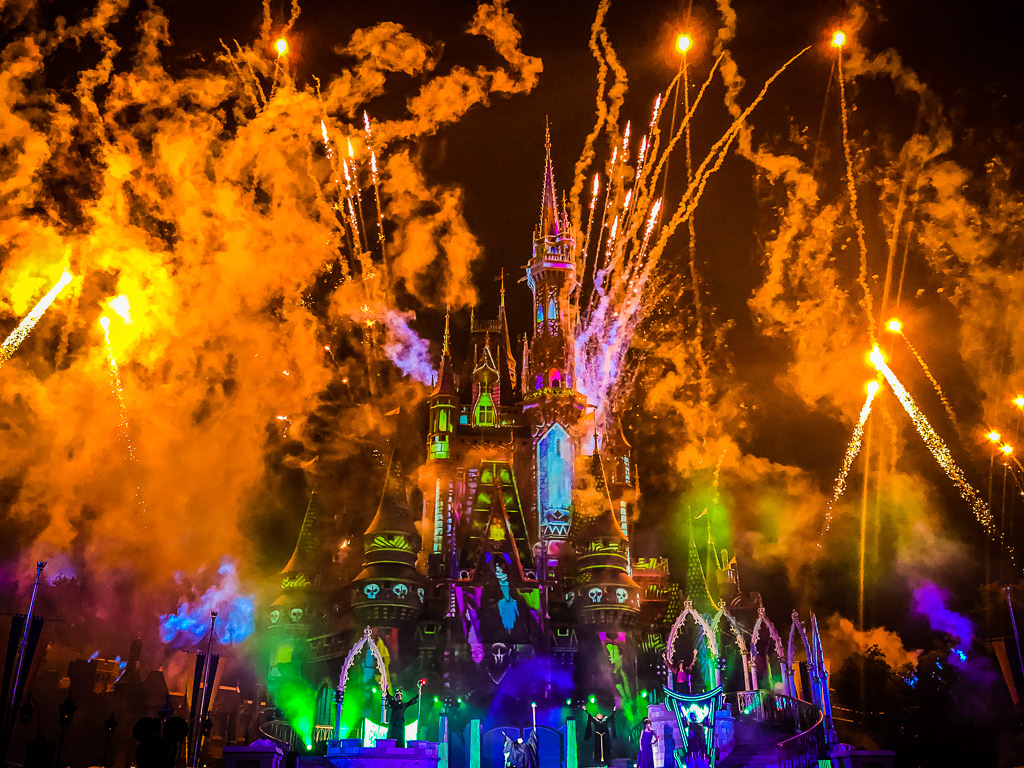 The event itself has a definite Halloween vibe ( a la Mickey's Not-So-Scary Halloween Party )... but with a significantly lighter crowd!  Whether you're there to enjoy the atmosphere, the specialty snacks and merchandise, the exclusive event entertainment, or simply experience as many as attractions as possible... you certainly can accomplish a lot in the 5+ hours you'll have in the park ( if you only have an event ticket ).  Attendees are able to use their event ticket to access the park at or around 7:00pm ( depending on event times for that evening ) and experience the regular Magic Kingdom nighttime entertainment prior to the event... so for many, this could act as a replacement park day if you didn't want to fight off the typical summer crowds.

I'd like to focus on three things that I feel are the highlights of the event: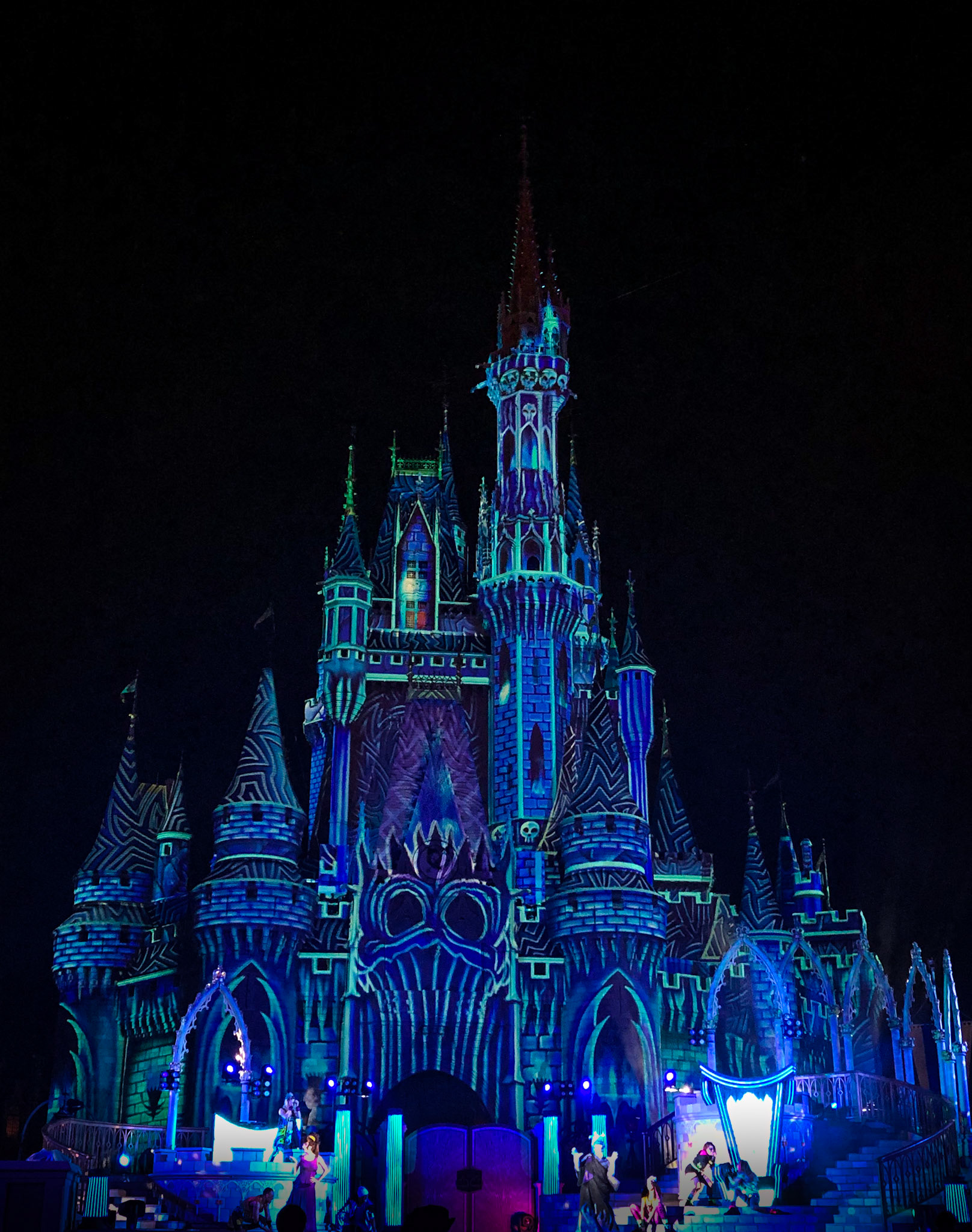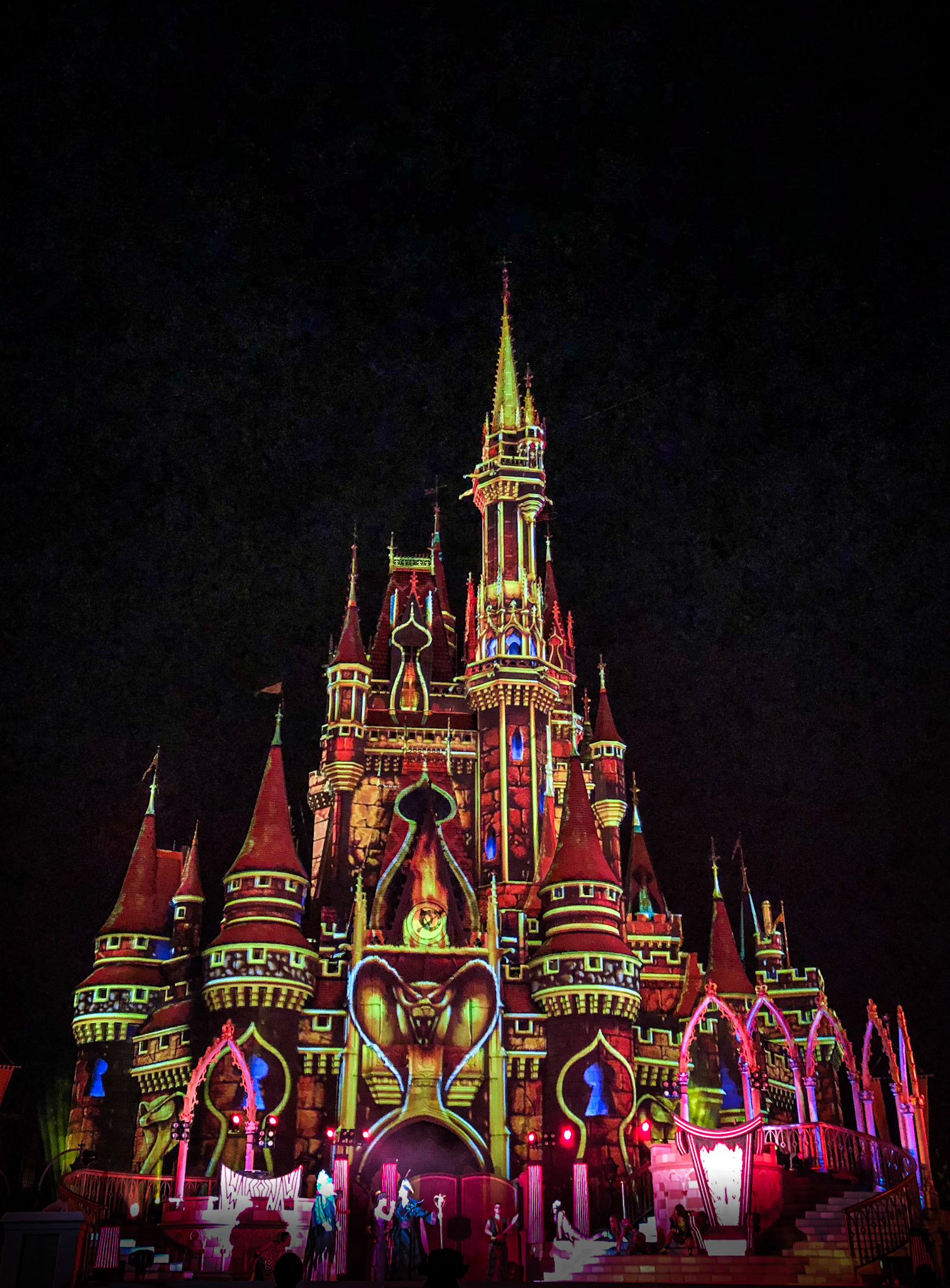 1. 'Villains Unite the Night' Stage Show

An all-new castle show has been developed exclusively for this event and is offered 3x nightly ( 11:00pm, 12:00am, 1:00am ).  It features some rare characters including Hades and Meg from Disney's Hercules as well the full complement of Disney Villains you'd expect from a Disney Villains stage show ( Dr. Facilier, Jafar and the Evil Queen ).  I won't rehash the show, but I've embedded a high quality recording of the show from
the DIS
so feel to check that out and support their site!
What impressed me the most about this show was the attention they paid to Cinderella Castle!  A new lighting package with projected effects for each participating villain was created ( see photos throughout the article ) and a healthy pyro / fireworks display was included as well!  If this is any indication for what's in store for this year's updated Mickey's Not-So-Scary Halloween fireworks, I think we'll be in for a treat ( pun intended ).

Let me also add that all throughout the night there is a DJ playing club-style music in the hub who acts as the event emcee.  This really gets everyone in a villainous mood and is a great tone setter for the event!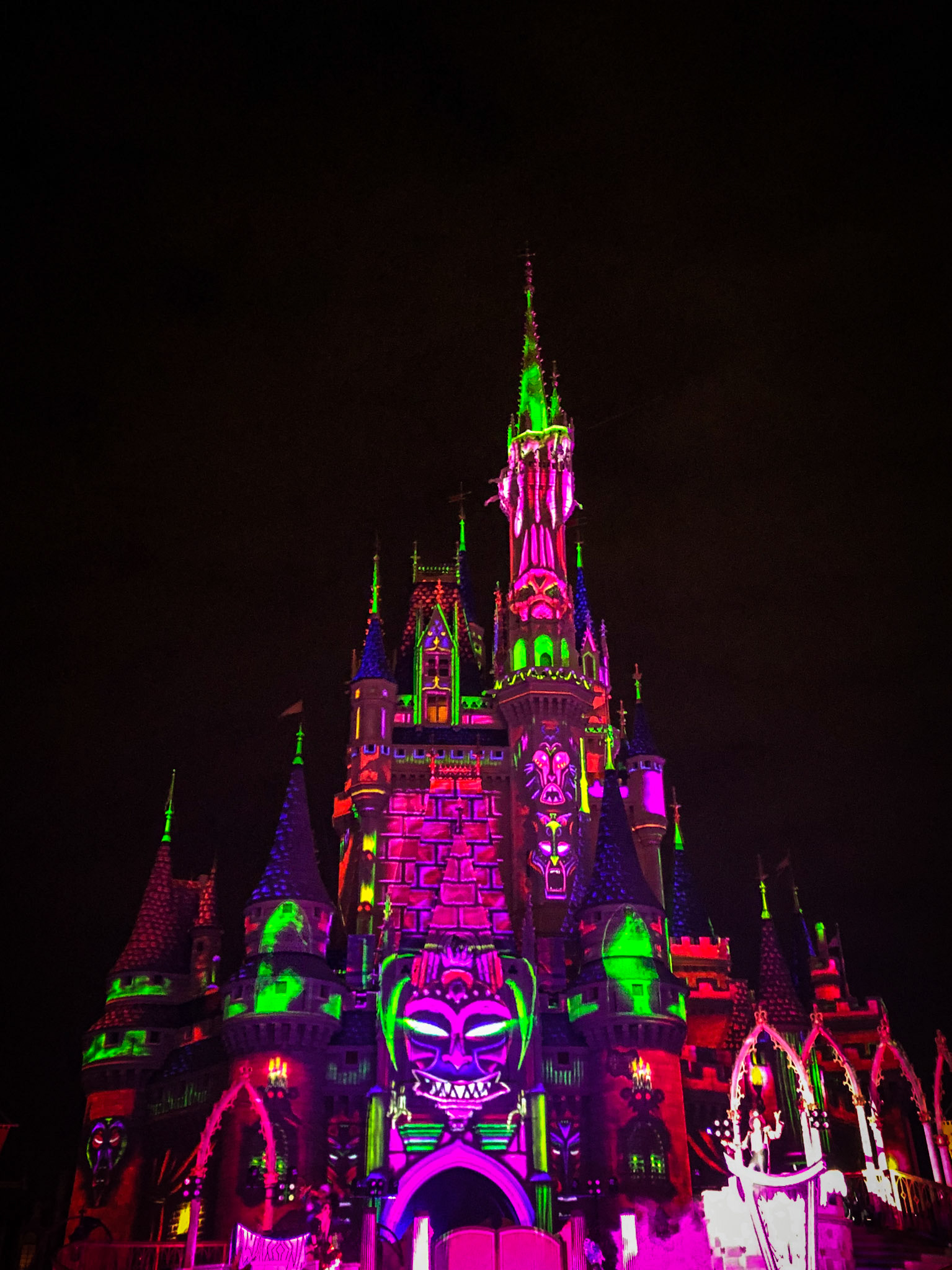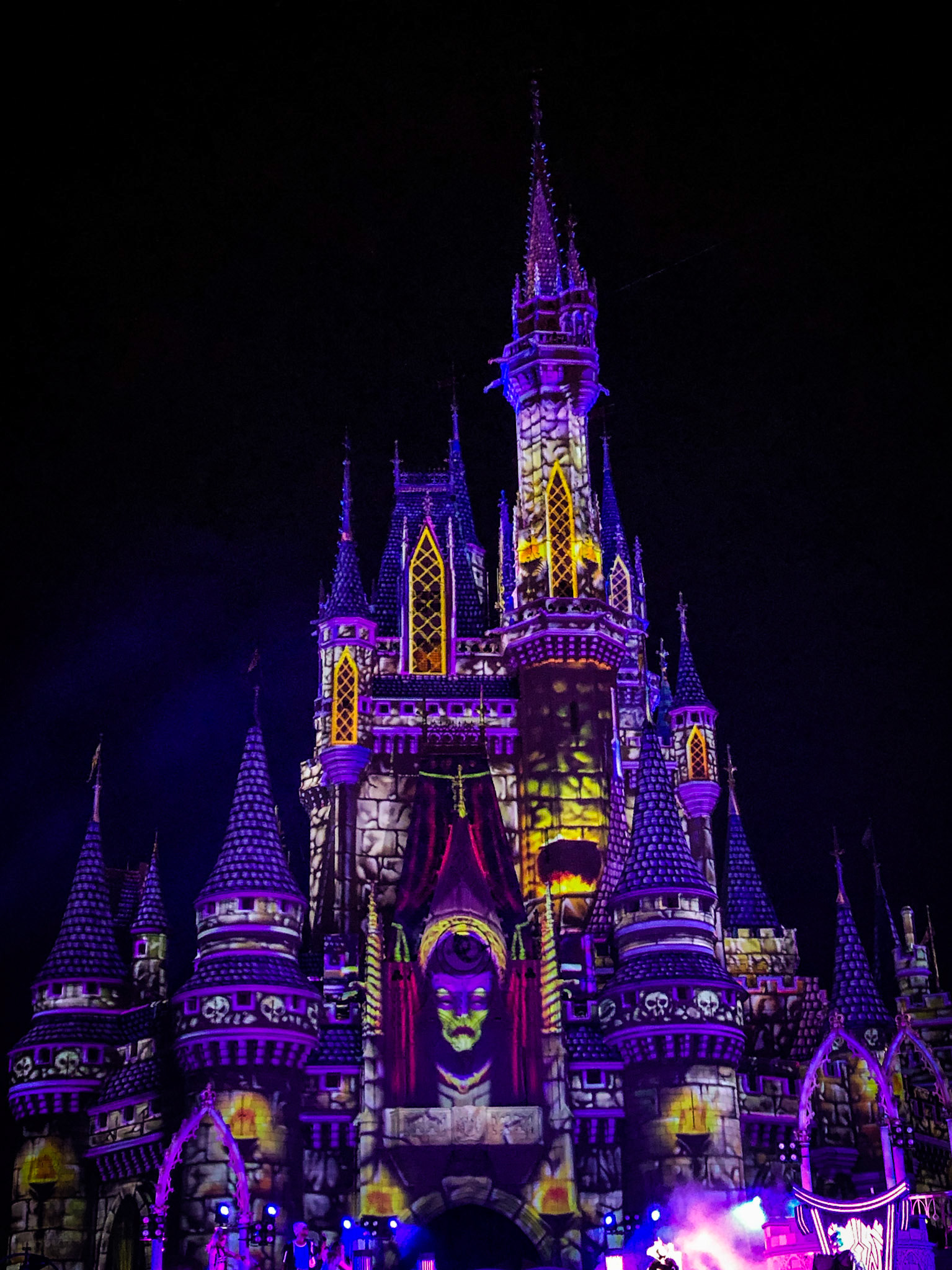 2. 'Maleficent at Night' Parade / Performance

It's really as simple as the name implies.  It's Maleficent from the 'Festival of Fantasy' parade... but, at night!  She takes a lap around Magic Kingdom three times ( 10:40pm, 11:40pm and 1:20am ).  Twice she circles the hub and returns to Adventureland, but then for her last voyage... she travels down the traditional parade route and down Main Street, USA.

The atmosphere is enhanced by an all-new soundtrack ( think generic hard rock music ) and her henchmen.  Instead of antagonizing Prince Philip like they do during the daytime parade, they turn their attention toward the spectators along the parade route.  Expect to get some in-your-face closeup photos... so have your camera ready.
I didn't.

3. Some Villainous Extras!

On top of those exclusive event entertainment offerings, you'll receive your fill of complimentary snacks... including Mickey Premium Bars, Mickey Ice Cream Sandwiches, Fruit Bars, Popcorn and bottled beverages ( Coca Cola products, water ).  There are also event-exclusive snacks!  These are available at extra cost and are similar in nature to the treats offered at last year's Mickey's Not-So-Scary Halloween party, so I'll leave you to discover what those were.  There were also additional event-exclusive magic shots and photo opportunities ( see above for my encounter with Scar ) as well as event-exclusive merchandise. 

To top it all off there were a couple of attraction overlays!  Both Pirates of the Caribbean and Space Mountain were 'enhanced' for the event.  Again... the enhancements were similar in nature to the ones offered for the same attractions at last year's Mickey's Not-So-Scary Halloween party... but at least they're trying, right?  At Pirates of the Caribbean, Captain Barbosa was taunting guests as they sailed along and at Space Mountain... someone turned the lights out ( video available... but what's the point really? ).

Final Thoughts... Was it Worth it?

In closing, I'd say that this event was certainly worth attending!  Not only was the park at its villainous best, but... the spirit and excitement of the other attending guests really made this a night to remember.  I'm unsure whether or not there were restrictions on costume dress, but if there were, it seems they weren't being enforced.  I saw several guests in full costume! 

If the candy from in-park trick-or-treating is unimportant to you... this event would probably be a great replacement for Mickey's Not-So-Scary Halloween party!  Although you're sacrificing the excellent 'Boo to You' parade, you'll be able to experience so many more attractions if that is your focus.

Overall, i'd give this event near full marks.  If Disney allowed for meet and greet opportunities with the villain characters ( even villains not appearing in the 'Villains Unite the Night' stage show ) it would make this event even more of a draw!  I'll leave you with any sweet surprise as I left the event...
Disney had several villain characters ( even the rare Big Bad Wolf ) greeting guests from the Main Street, USA train station as they left.   The Tremaine sisters and Gaston were even mic'ed up!  This was just another example of the attention and care Disney paid to this event.  If you love the Disney Villains, this is one not to miss!
If you've attended, or if you have any questions on what I missed in this report,, please reach out to us on social media ( links above ) or send us an email using the form below!

Thank you for contacting us!We'll take your feedback and incorporate it into this article!